The best folding sliding doors you can buy!
Smart aluminium bifold doors are the most popular home improvement, bringing light and space into your home. Often pecified in place of sliding doors, they provide a large clear opening that blends the outside with the inside.
The Visofold range of aluminium folding doors are manufactured from dedicated profiles that are suitable for both residential and commercial use. The slim thermally broken system provides comfort and amazing views when the doorway is closed. It is a versatile system with a wide range of possible opening configuration options.
Aluminium bifold doors can take up much less room than a standard door. There is also no need to position them centrally on supporting walls.
With heights of up to 2.5 metres, and a maximum panel width of 1200mm, they are a great way to open up entire walls to the outside. For practicality, you can include a traffic door with a hinge to use just part of the bifold as a normal door. We can also create a French door with Visofold.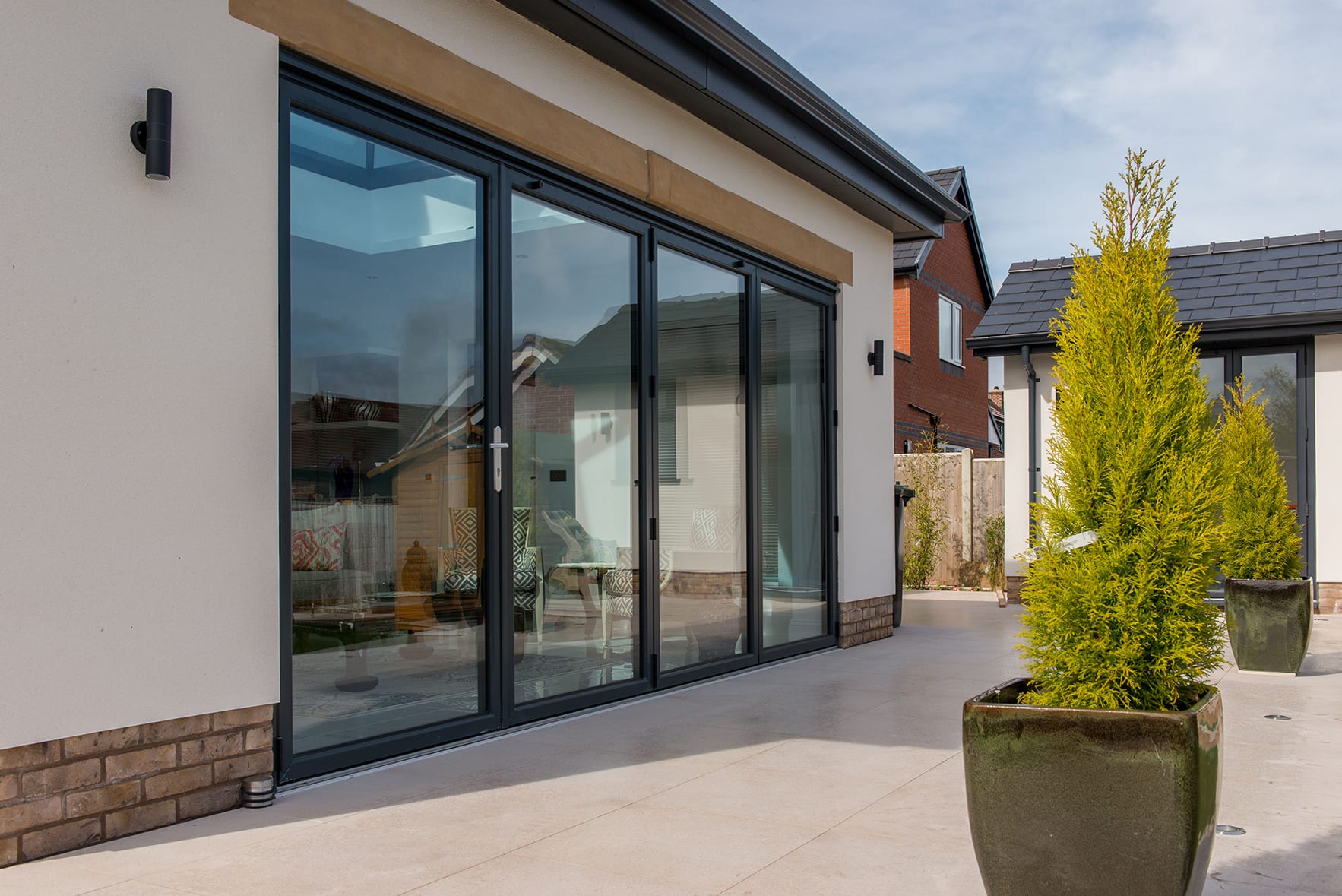 Our Aluminium Bi Fold doors are manufactured from slim 60mm thermally broken profiles to ensure maximum glass widths can be acheived using the minimum number of panels. This allows for more natural light and unobstructed views of the outside world. There are no additional mullions required between the panels that broaden the sight lines so when panels are folding and sliding in the same direction, the width of the aluminium from edge of glass to edge of glass is just 132mm.
Efficient and Practical
Our range of aluminium bi-fold doors is fully compliant with Doc L of the Building Regulations (Conservation of Fuel and Power). A polyamide thermal break creates a barrier between the internal and external aluminium sections. This reduces heat loss and enhances thermal performance. In winter, rooms will be warmer and, in summer, they will be cooler.
The glass in our bifolds also accommodates integral blinds. They are operated with magnetic sliders and are completely self-contained within the glass. Your blinds won't need dusting again, and they will never rattle around in the wind or get caught by passers by.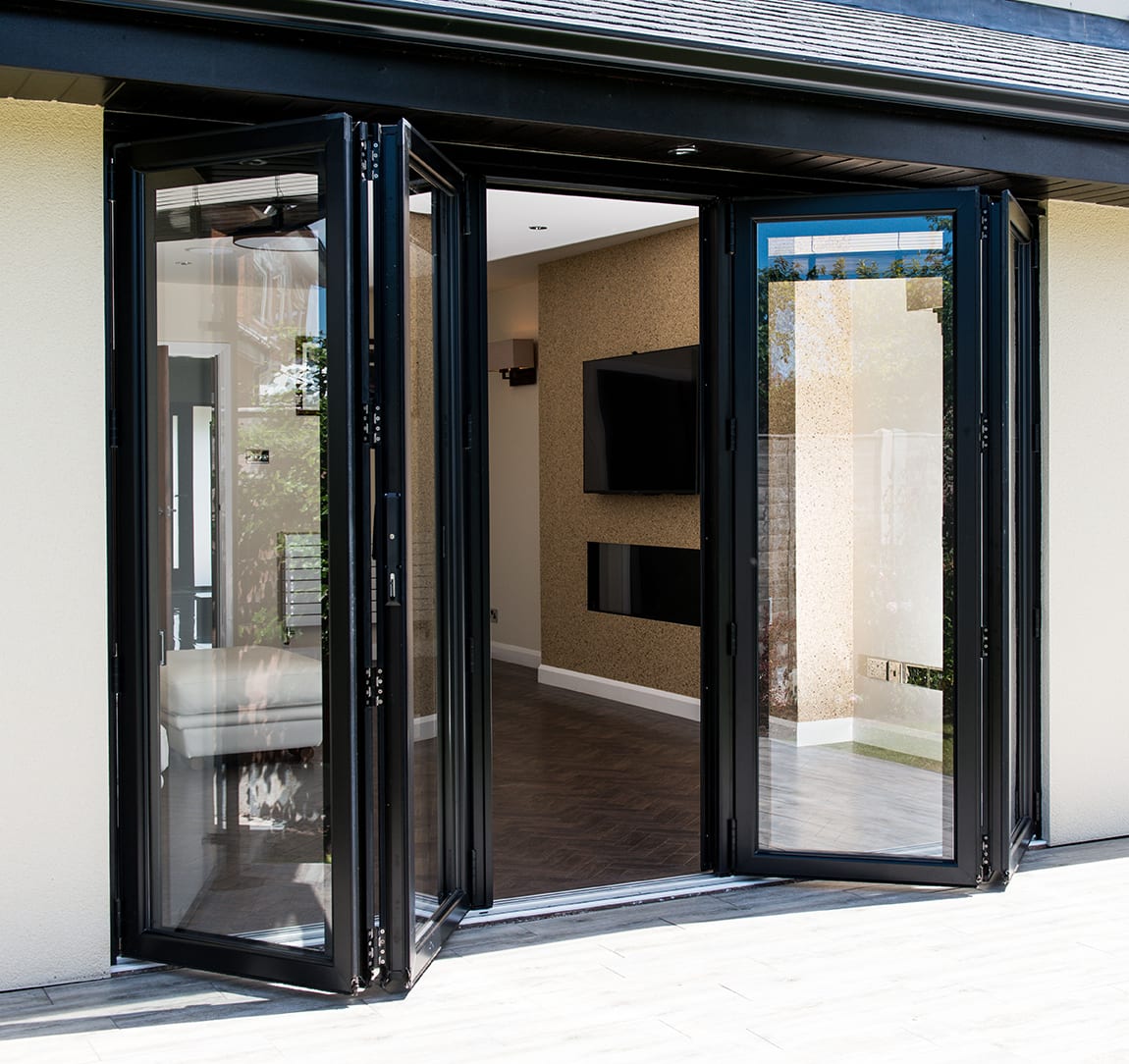 Colours & Finishes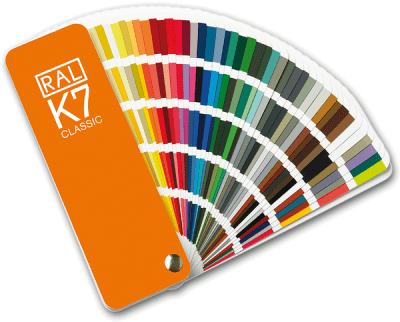 Visofold can come in the same choice of over 200+ RAL colours and finishes. You can also have dual colour options, realistic wood effects, and metallic paint options. All paint finishes are produced to the highest standards.
The powder coatings that applied to aluminium doors are highly durable with a lasting surface finish. Smart aluminium products can also have a marine-grade finish. With proper use, they are guaranteed not to discolour or peel for years to come.
Low Thresholds & Handles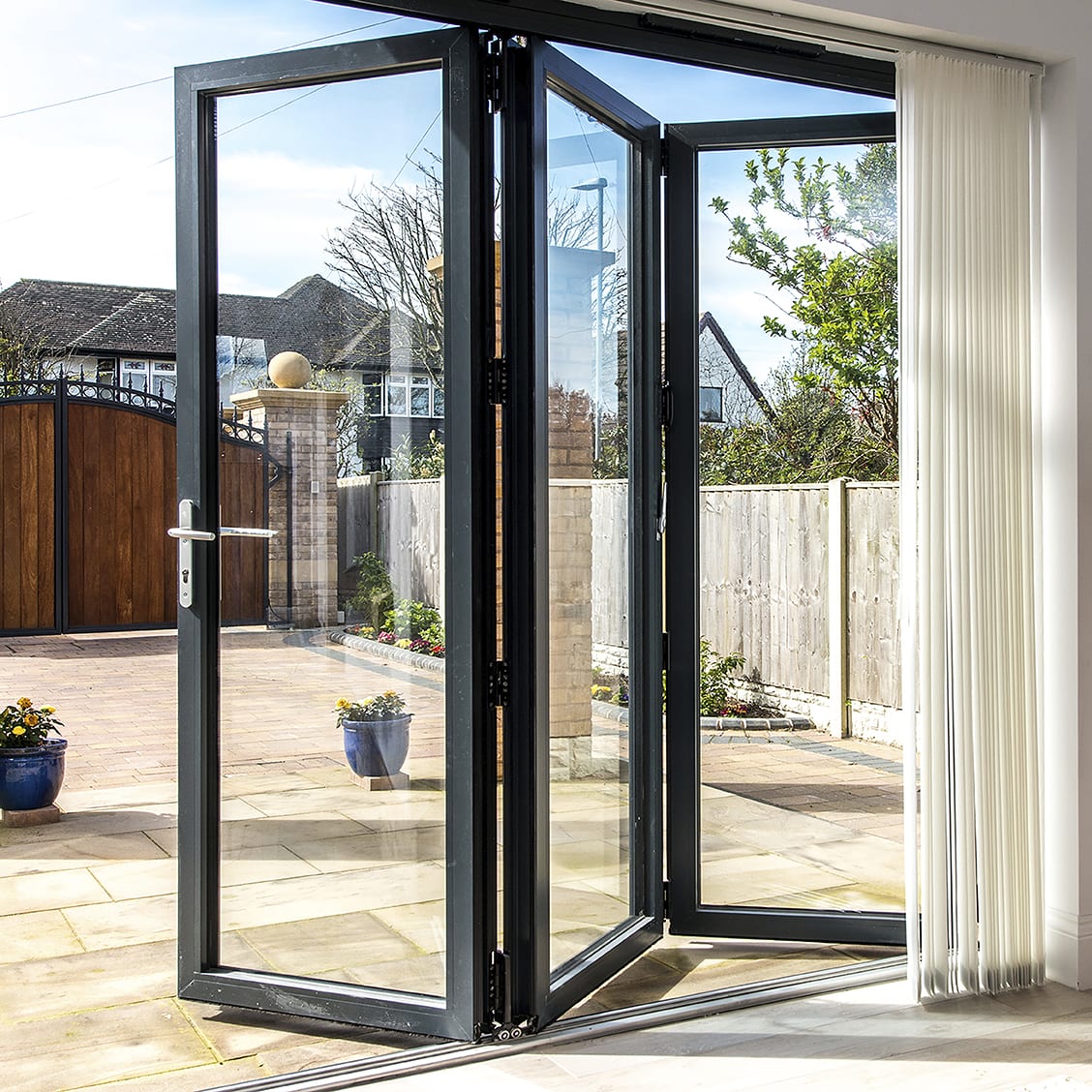 The Visofold 1000 aluminium bifolding doors feature strong, durable profiles and a choice of low or weathered thresholds.
Non-weathered low thresholds provide the opportunity to create flush floor levels between two living spaces by sinking the threshold into the floor and merging the two floor areas into one.
Lever handles operate the hook bolt locking system on traffic doors and provide external key access whilst intermediate panel shoot bolt locking is operated by internal fold-flat handles as shown.
The style of traffic door handles will differ when RAL colour handles are specified. 'D' handles are fitted to the hinges of intermediate panels to allow easy opening and closing of the bifold doors.
Smart Visofold Features
Ultra Slim Sightlines
Low Threshold Option
Internally glazed for Security
Optional integral blinds available
200+ RAL colours
Dual Colour Available
High Security Locking
Fold doors in or out, and slide left or right.
Square or rounded edge profile options.
Frame Width: 102.5mm, Depth: 70mm
Max Sash Height: 2500mm, Width: 1200mm, Weight: 100kg